Once people discover the hCG diet, the majority are more interested in going the "drops" route than the injection route.  I am speaking specifically here of prescription hCG only- not the drops from walmart- we'll discuss those in another post (they're just not real, and while it might be fine to play with the metabolism of say, your daughter's teddy bear, your one-of-a-kind special unique body deserves better.
While the apprehension is understandable, it doesn't really make sense if you are looking at the result you want to get.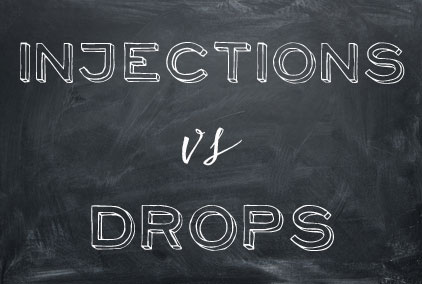 Why are hCG Injections so effective?
You are delivered the proper amount of hCG into your fat each and every time.
It is questionable as to whether how much of the drops you will be absorbing- this is putting your experience on the hCG diet at risk.  Is that really worth doing?
Wanna-be hCG Drops
There are also the other kind of "hcg drops" that are often sold at health food stores and big box stores.
Let me make one thing clear: it is illegal to sell prescription hCG without a prescription.  These stores are not selling prescription hCG.  What's in the bottle then?  They cleverly label their products as hCG by claiming it contains hCG "activators".
Is that a little like saying if you take enough vitamin C your body will produce an orange?  Kind of sounds like it.
Since the hormone is imperative to doing this diet in a healthful way, please don't skimp on the quality of the hCG you purchase.  It simply isn't worth the toll it will take on your body, which is far more precious than saving a few bucks.
That Brings Us Back To Injections
They really do work well- it's easy, painless, efficient, and uncomplicated.
You can certainly use prescription drops.  Certainly.  I just feel they are the next best thing, not the best thing.
If you are truly that nervous about the idea, the place I recommend for pharmaceutical hCG supplies both injections, drops, and even pellets, so there really is something for everyone's comfort level (although if I'm being honest, I still feel injections are the most reliable way to go).